Today is the Winter Solstice in Australia.
And so in keeping with the occasion, this will be my shortest post for the year.
In the five month since my last, the nights have lengthened longer and longer still into the days. And in this new year I've really felt that darkness as I've groped about trying to find a new synthesis for my latest and greatest antithesis.
And so the 'New Year's' kept flying past me – Orthodox, Chinese, Persian – each as good as the other to review 2014 and project my plans for 2015, to start, but sometimes it has to get as dark as it can before something can come to light.
The solstice is a natural turning point in the year. From now on it will be the days that will lengthen and the warmth of summer will be on its way. Historically, it was a time of new beginnings, of rebirth and revival – "the year as reborn." In the past week it occurred to me that today could be my true New Year's Day.
I've done much that could still be material to work on: immersing myself in the 'Bindu Shards' Perceptual Cell at the James Turrell Retrospective; taking part in a Google Garage, a Peer Academy workshop and Noted, Canberra's experimental writers festival; publication of an interview about late 2014's Canberra MapJam. Projects and books begun and sometimes even completed. I've rejoined the Gurdjieff Work.
Yet July to October aren't also called the "famine months" for nothing. And the previous six months weren't much better. So I'll be making no promises and I won't be writing any cheques I can't cash. Yet it is heartening to wiki-read that "the majority of wine and beer made during the year was finally fermented and ready for drinking at this time." I hope to multiple gods that this will be true in my case.
But old promises? That's another story:
A change (of name) is gonna come …
For now, I'm celebrating."Think pagans, druids, ley lines and stone circles" – I'm in good company:
From the ancients to Turrell, we've sought ourselves in the sky when the sun and the stars are right, and thehenge.com.au proves that thankfully even my immediate seemingly disenchanted neighbourhood is no exception. Next year I'll need to pay Robbie and Tracey Wallace a visit:
For now I'll just add my own words to theirs: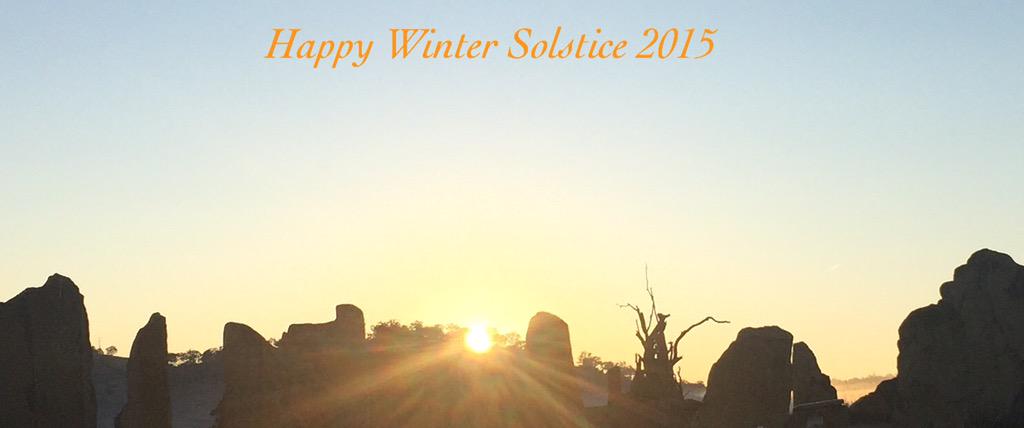 Until the next time, remember as I will that we all need just a little gratuitous divine intervention, some 'other-power', if we are to escape the gravity of our humanity:
Even atheists. Maybe especially atheists.